Order/Pricing - Pictures - Awards - Press
---
Welcome to ThePaperCutter.com, Peter's cozy little corner on the internet. Feel free to have a look around. If you have any questions or would like to order a custom paper cut you can call the studio at (718) 468-7052 or send an email to peter@thepapercutter.com. Thank you and come back soon.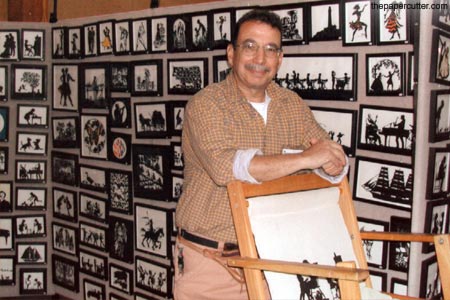 Peter Dov Varga has been making paper cuts for more than ten years. His pieces are as diverse as our human species. "There's something for everyone," says Peter.
His hands are steady and gentle. Cutting is a meditative process. You must focus on the details without forgetting about the big picture. It can be difficult at first, "but when you get good at it you can put away the band-aids and let your mind wander," he jokes.
Cutting is a constant learning experience. Peter has taught himself everything he knows about paper cutting. He's made all of his own mistakes, and all of his own discoveries. He is constantly refining his craft and always pushing new creative boundaries.
During his off-hours Peter the Paper Cutter goes by many other nicknames such as: loving son, loving husband, and loving dad.
Click here to see price information, or to order a paper cut.
Click here to see photos of Peter's papercuts.
Click here to read a newspaper article about Peter.
---
©2003 Peter Varga / Fresh Meadows, NY 11366 / (718) 468-7052